When You're Faced with Important Decisions
Trust a Devoted Professional
For the Future of Your Health, Your Family, and Your Life
Personal Injury Attorney
in Brownsville, Texas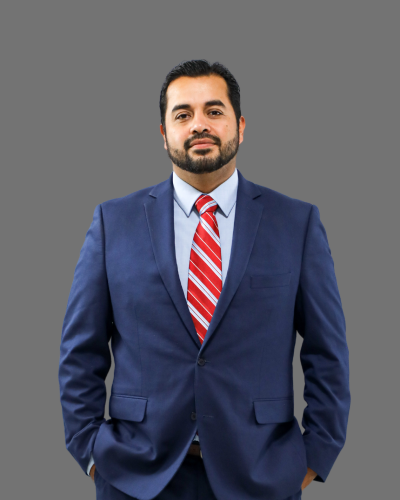 Miguel A. Salazar
Attorney at Law
After beginning my professional career as a high school math teacher, I discovered my passion for helping others. My desire to make an even bigger impact sparked my pursuit of a legal degree, and I've never looked back. Being able to use my knowledge to guide others through uncertain paths is an incredibly rewarding feeling.

Focusing my practice on personal injury law, I understand that a number of crucial decisions can have lasting impressions on a client's life. I take the responsibility of educating and advising my clients very seriously. If you're in need of an experienced attorney, contact me in my Brownsville, Texas, office today to schedule a consultation.
LEARN MORE ABOUT ME
Knowledgeable Legal Guidance You Can Trust
I will give you the information you need to make the most informed decision possible.
Dedicated
When I take on your case, I work alongside you until you've received a resolution. You will never have to tackle your complex problems alone.
Personal
I will work with you directly with no interference from a middle man. We'll collaborate on a plan of action to get you the best possible solution to your case.
Accessible
I make it a priority to be easily reachable to my clients. Please don't hesitate to contact me with any questions or concerns about your case.
A Fair and Equitable Solution is Within Your Reach
When you've suffered an injury, your main focus should be on your recovery. Let me take care of the rest. I will effectively communicate on your behalf and fight for your rights. The outcome of your case can change your life; it's in your best interest to do everything you can to move things in your favor.
No matter what brings you to my firm, I'm dedicated to protecting your rights, and I'll be honest with you about the status of your case every step of the way. Facing a legal situation is overwhelming enough; you shouldn't have to navigate the justice system by yourself. When difficult situations arise, I will be your strongest ally.
Whether you're struggling to recover from injuries after an accident, going through a divorce, or are facing criminal charges, I'm prepared to guide you. I have experience handling a variety of cases and will always fight for justice and the best possible outcome.
Serving the needs of those in the Brownsville, Texas, community has always been my priority, and your case will be no different. If you've been injured in a car or truck accident and need an experienced attorney to help you pursue justice, contact the Law Office of Miguel A. Salazar, PLLC. I represent clients in Brownsville, Harlingen, McAllen, Weslaco, and in the Rio Grande Valley. Contact me today to schedule your free consultation.